Manchester City manager Pep Guardiola is looking to overhaul his squad in an attempt to close the points gap that's appeared between his side and Liverpool this season and he's apparently looking at a player who has also been linked with The Reds.
According to a joint report from James Ducker and Mike McGrath ofThe Telegraph, City are looking to sign a left-back, a winger and a central defender and the man they have their eye on to fill that last void in the squad with Napoli's Kalidou Koulibaly.
The 29-year-old defender has been linked with a move to Liverpool in the recent past but given the impact that the global pandemic has had on the club's finances, a move for the Senegalese international is seemingly off the table.
However, City's owners are apparently still willing to spend this summer and given the issues they've had defensively this season, a move for Koulibaly would make a lot of sense.
Read Liverpool Verdict
It's tough to know how interested Liverpool would have been in Koulibaly if not for the pandemic, but his asking price would always have been an issue.
However, The Telegraph believe that Napoli will be willing to reduce that price from around the £100m mark and closer to the £75m fee that Liverpool once paid for Virgil van Dijk.
If City are willing to spend that cash on the defender, then they, quite simply, get a huge upgrade at centre-back, one that should make them an even tougher challenger for the Premier League title than they would have already been.
Given that they no longer have a Champions League van hanging over their heads, City look ready to splash the cash, which could be bad news for Liverpool in the terms of next year's title race.
Who is the better defender?
Kalidou Koulibaly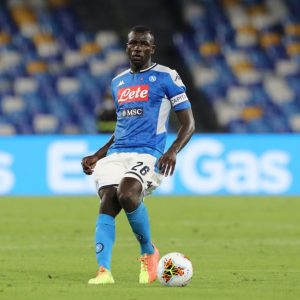 Virgil van Dijk