LONDON, ENGLAND – OCTOBER 03: Unai Emery, Manager of Arsenal reacts during the UEFA Europa League group F match between Arsenal FC and Standard Liege at Emirates Stadium on October 03, 2019 in London, United Kingdom. (Photo by Julian Finney/Getty Images)
Arsenal sit in third place in the table, one point behind reigning champions Manchester City. They have only lost to European Champions Liverpool. Yet, fans are still not convinced by the uninspiring performances of Unai Emery's squad. So what gives?
A little over one year ago,Arsenaltook on now relegated Fulham at Craven Cottage in what came to be one of the Gunners' finest displays ofUnai Emery'sfirst season. His team walked away with a 5-1 victory punctuated by three pristine goals, two from Alexandre Lacazette and Pierre-Emerick Aubameyang and the one that really stole the show, a free-flowing, front-to-back move tucked away by the now Turin-based Aaron Ramsey. The goal showed signs of Emery's exciting new brand of football. It made the entire league take notice. And, most of all, it inspired the fanbase. That day Craven Cottage became infamous as Gooners in the away end sang 'We've got our Arsenal back!'
Fast forward to the present day and the auspicious early signs that fans saw have certainly be tempered by reality. Fans are yet to witness the free-flowing, attacking brand of football that saw Emery's side challenge till the very end for a top-four place. Instead, it has been replaced by the same turgid, pensive style of play that characterized the team's shambolic collapse in the latter stages of last season. And if supporters learned anything from last season's campaign, it is that questionable performances are cause for concern, even in spite of positive results.
While league position and points accrued paint an exciting picture, the unconvincing performances of this season reveal an underlying issue. Arsenal have not yet outscored an opponent by more than one goal. They also rank outside the top four in a number of key statistical categories like shots (6th), possession (8th), passes (8th) and clean sheets (9th). This cursory statistical analysis does not portray a team that anyone would classify as a 'protagonist'. Eventually, the stellar individual contributions of Pierre-Emerick Aubameyang will not be enough to keep this leaky ship afloat.
In fact, we are beginning to see the same underlying issues that came to the fore during the previous campaign. Fans were happy to give Emery patience as he acclimated to English football, but now, in his second full season, supporters desperately need to see some tangible progression. One loss in eight games has been a somewhat kind reflection of Arsenal's form in this early part of the season. In order to win over fans fully, the manager will need to prove that history will not repeat itself once again.
What fans felt during that October clash with Fulham in 2018 was a flicker of inspiration. After over two decades with Arsene Wenger, the club had become known for its attractive football. However, by the end of the Frenchman's reign, supporters bemoaned the defensive fragility and tactical naivety of the squad. Many fans made the case that they would happily swap attractive football for a more pragmatic approach that could foster better results.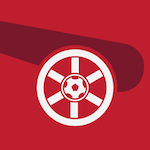 Want your voice heard? Join the Pain In The Arsenal team!
Well, in actuality, that simply isn't true. The dichotomy between attractive football and positive results is not as cut and dry as we once thought. Whether it be down to personnel, philosophy or a combination of the two, Arsenal have not yet been able to bring Emery's vision to fruition. Emery's squad needs to not only start passing the 'eye test' but begin to make up ground in key statistical areas as well.
Without major strides forward on the pitch, his team is in danger of crumbling in the same fashion as it did last season. Clearly, the underlying statistics and optics are trending in a negative direction. The team cannot continue to grind out results against the likes of Watford, Bournemouth and Manchester United as they have done so far this season. They must show that they can dominate games, and do so on a consistent basis. And not just to inflate the entertainment-obsessed egos of fans, but to prove that there are real green shoots of progress peaking through.
Fluid, convincing performances will inspire fans and provide the evidence needed to fully back the manager's project. With a string of games that seem winnable, at least on paper, now is the time for the manager to inspire with convincing performances and not simply placate fans with results. Whether he can inspire such showings, however, is another question entirely.