After a slow-burning start to his Liverpool career,Fabinhoemerged as one of the key figures ofJurgen Klopp's side over the second half of the campaign.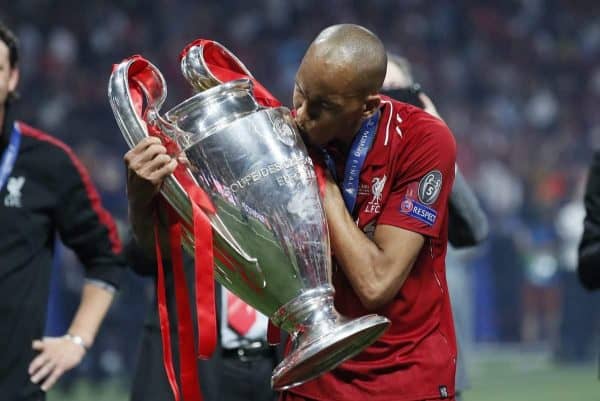 Signed from Monaco for £39 million in the immediate aftermath of last season'sChampions Leaguefinal defeat,Fabinho's arrival came out of the blue as the Reds wrapped up the deal incredibly swiftly.
Having built his reputation as one of the finest specialist defensive midfielders in Europe,Fabinhofilled a gap Liverpool fans had long been craving a solution to ever since Javier Mascherano's exit.
Despite having to bide his time for his opportunity, over the course of the seasonFabinhogrew in stature and became one of the team's most consistent performers.
In fact, his This Is Anfield average match rating was 7.19—the third-highest in the squad.
While it took him a little while to find his feet,Fabinho's combination of exceptional positional intelligence, ability to break up play and find forward players with precise, incisive passing saw him play an integral role in a phenomenal 97-pointPremier Leaguecampaign andChampions Leagueglory.
Fabinho, 2018/19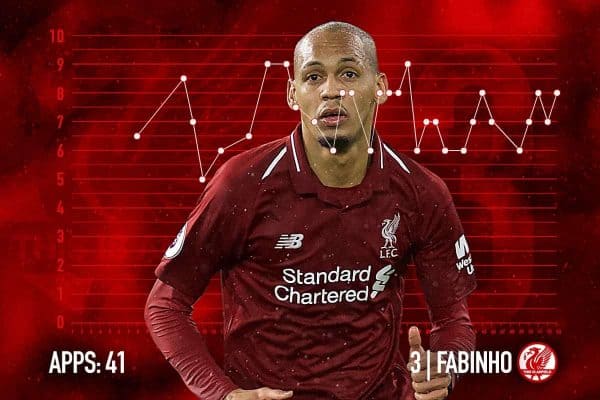 Started:30 (All competitions)
On as a substitute:11
Unused sub: 8
Goals:1
Assists:2
Our Overall Season Rating:9
Average TIA Player Rating:7.19 (Rank:3rd)
A Beneficiary of Klopp's Patient Approach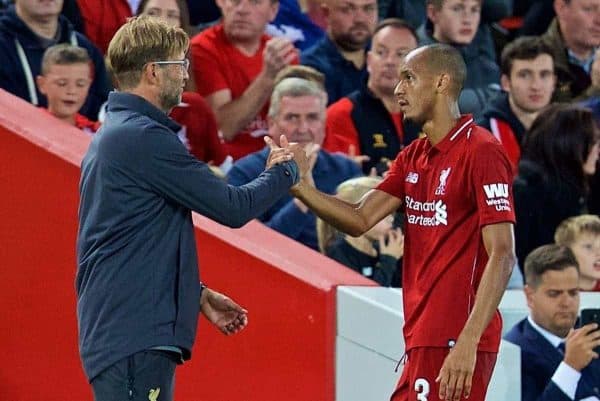 As we saw in 2017/18 withAndy RobertsonandAlex Oxlade-Chamberlain, Klopp is not afraid to take a patient approach to bedding in new signings, working with them on the training ground until he feels they are fully ready to make their mark.
Despite joining early in the summer transfer window and being ever-present throughout pre-season,Fabinhostruggled to even make the 18-man matchday squad in the opening weeks of the season.
He had to wait until late October to make his first league start in the 4-1 win against Cardiff at Anfield.
While some were beginning to become concerned overFabinho's lack of involvement, Klopp was always calm and honest when questioned about it.
It was simply a matter ofFabinhoneeding a longer period of time to adapt to a highly demanding and complex role in the side, which required sustained work on the training ground.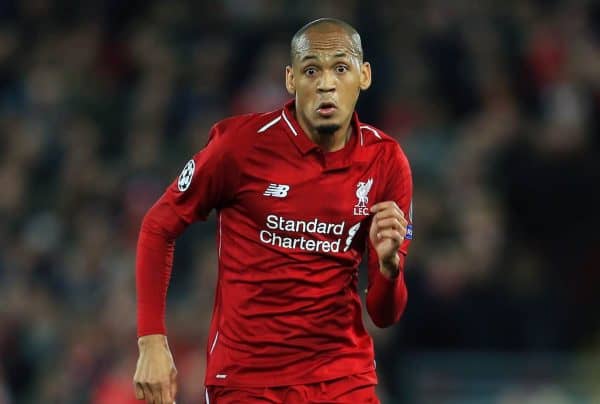 Rather than throwing him into action immediately, Klopp held his No. 3 back until he learned how to play the position in Liverpool's system.
And that gradual period of integration proved a hugely successful strategy asFabinhoquickly got up to speed thereafter.
A standout performance in the 4-0 victory over Red Star in theChampions Leaguesaw him demonstrate his qualities in impressive fashion, albeit against relatively weaker opponents, offering a glimpse of what he could bring to the midfield.
In the 3-1 win againstMan Unitedat Anfield in December,Fabinhowas the star of the show and carved outSadio Mane's opening goal with a sumptuous lofted through ball to split open United's back line.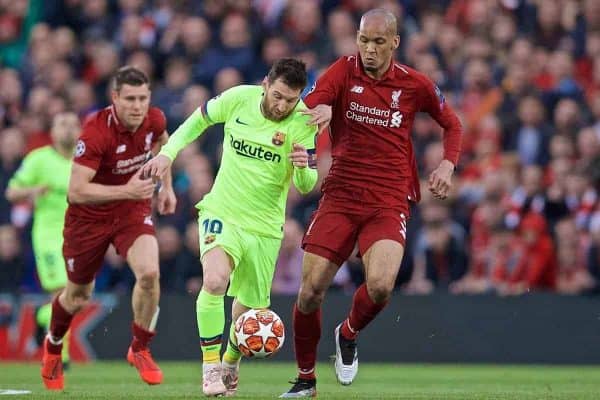 Imperious against Bayern Munich and Porto,Fabinhostarted both legs of theChampions Leaguesemi-final tie with Barcelona and was sensational in the second leg at Anfield.
There, he helped shackle Lionel Messi and along withJames MilnerandJordan Hendersonprovided the solid midfield platform for Liverpool's historic comeback on the night, while playing on a booking for the majority of the contest.
He can therefore lay claim to playing a major role in driving the Reds towards their sixth European Cup triumph with his exceptional performances in the competition.
Although it took longer than most might have expected forFabinhoto finally make an impact, it proved to be well worth the wait.
The Brazilian became a pillar of consistency and one of Liverpool's top performers throughout the second half of the campaign.
An Outstanding All-Rounder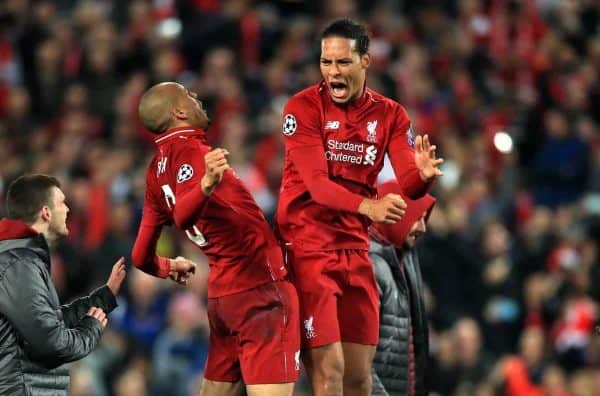 Having initially made his name at Monaco as a marauding right-back,Fabinhoraised his game to another level as he transitioned so impressively into the No. 6 role in midfield for the French side.
Speaking of his role for Liverpool, assistant manager Pep Lijnders said: "His timing, his vision, his calmness, it gives another dimension to our midfield."
Lijnders also describedFabinhoas the "lighthouse" in Liverpool's "organised chaos," controlling proceedings with his outstanding ability to read the game, spot danger and stay cool under pressure.
Renowned for his superb tackling technique and ability to cut out opposition attacking moves with countless interceptions,Fabinho's guile and vision in possession make him such a multi-faceted midfielder, far beyond the usual expectations of a traditional No. 6.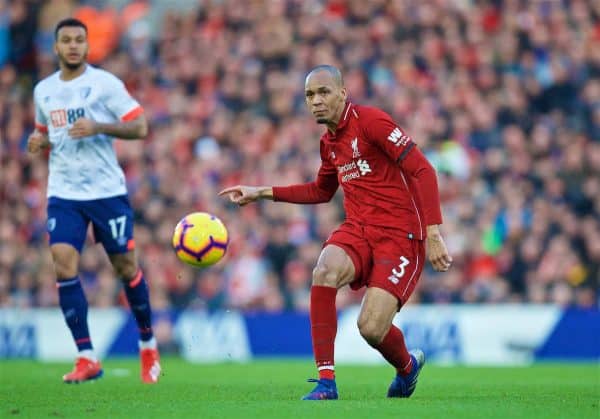 His clever forward run and driven pass toMohamed Salahin the 2-0 win at Wolves in December was clear evidence of what he can bring to the attack, breaking the lines and creating opportunities rather than merely holding his position in front of the back four.
He was also impressive when coming on as sub at home toTottenham, providing the midfield impetus that had been lacking as Spurs dominated the second half until his arrival with 13 minutes to play.
Perhaps most impressive, however, wasFabinho's contribution when asked to fill in as an auxiliary centre-back, most notably in the first leg of theChampions Leaguelast-16 tie against Bayern at Anfield.
WithVirgil van Dijksuspended and bothDejan LovrenandJoe Gomezinjured, he played alongsideJoel Matipat the heart of the defence and was immaculate as Liverpool kept a crucial clean sheet and prevented Bayern from taking an all-important away goal back to the Allianz Arena.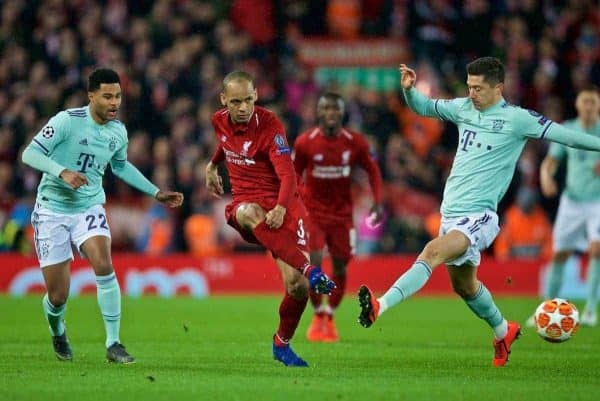 Fabinho's aerial prowess and positional intelligence saw him slot seamlessly into an unfamiliar role in a high-stakes contest, looking as though he'd played centre-back throughout his entire career.
Having previously performed the role so admirably in the 1-0 win at Brighton back in January, his versatility became a vital asset for Klopp as he dealt with a defensive injury crisis, able to step in a perform to a very high level in either role when required.
The Future Role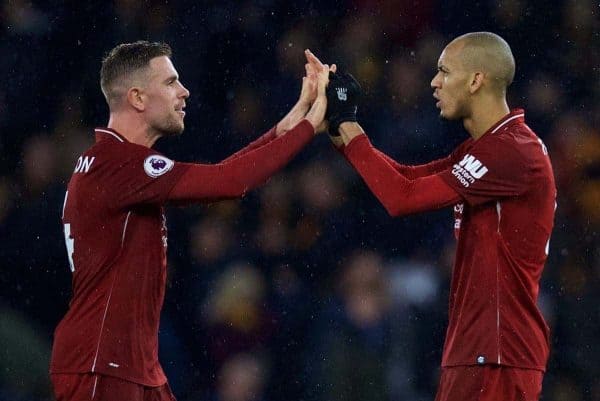 Fabinho's debut season can be considered a resounding success overall, although there were several occasions where he struggled to exert his authority and looked somewhat off the pace in certain situations.
ArsenalandWest Hamaway were among his poorer showings, as Liverpool failed to control the middle of the pitch and left spaces which the opposition were successfully able to exploit.
In these situations some ofFabinho's weaknesses were exposed, particularly chasing back towards his own goal where his lack of natural recovery pace was sometimes evident, and tricky opponents were able to ghost past him.
In general, though, these ragged performances were the exception to the norm.
And at only 25 still, there's ample reason to believeFabinhocan continue to improve in his second season and beyond—while chipping in with a few more goals and assists too.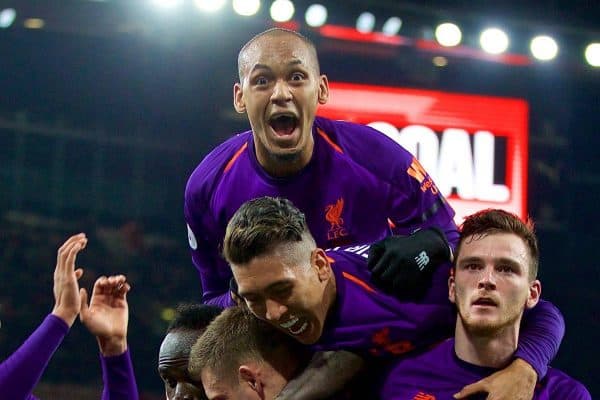 In terms of the squad,Fabinholooks set to play a major role again for Liverpool next season and can be expected to start the vast majority of games when fit and available.
Klopp will, of course, rotate and alter his midfield lineup for specific opponents and to take account of fitness and form.
But with a full season of experience now under his belt,Fabinholooks primed to be one of Liverpool's key players in 2019/20, and potentially to make a case for himself as the top defensive midfielder in thePremier League.
---
Best moment:His entire performance against Barcelona at Anfield. He was instrumental in the the comeback, doing plenty of the crucial but understated work off the ball. To do so on a yellow card from early on was even more remarkable.
Worst moment:Being left out of the squad entirely in the opening weeks of the season.
Role next season:First name on the teamsheet in midfield.